As an international company of Swedish origin, SinterCast has benefitted from the recruitment of Board members and managers from around the globe.
The Board
Appointed at the Annual General Meeting, the Board is responsible for establishing the overall operational goals and strategy of the company and for ensuring that there is an effective system for follow-up and control of the company's operations. The Board is directly engaged in sustainability, with a particular focus on employee development and wellbeing, business ethics and anti-corruption. Suppliers have direct access to the Chairman through the supplier whistleblower routine. Since the year 2000, the Board has included members from seven different countries, bringing executive experience from eight OEMs, including Aston Martin, Ford, General Motors, Isuzu, Jaguar Land Rover, Perkins, Saab and Volvo. The current Board has more than 150 years of experience in the customer arena.
Executive Management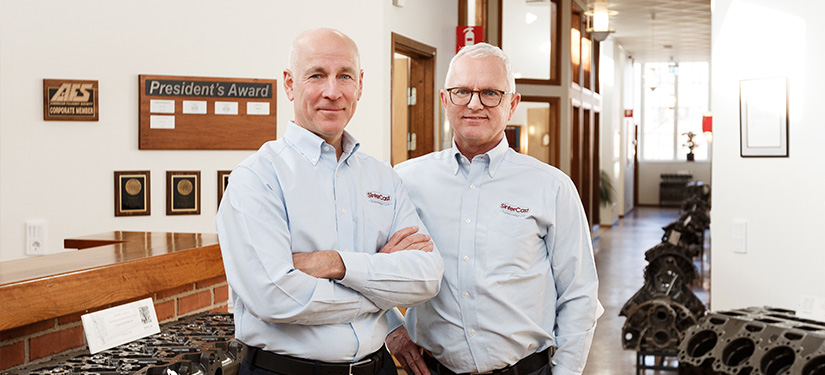 Steve Dawson
President & CEO
1991
Daphner Uhmeier
Finance Director
2004
With more than 50 years of combined SinterCast service, the executive management comprises the CEO and the Finance Director. The CEO is internationally recognised as an authority on Compacted Graphite Iron, having authored the chapters on CGI in the American Foundry Society (AFS) Iron Castings Handbook and the international ASM Handbook on Cast Iron Science and Technology. Dr Dawson also served as the chairman for the development and publication of the international ISO standards for CGI in 2006 and 2017 (ISO 16112 : 2006 and ISO 16112 : 2017). He is a frequent keynote speaker at conferences around the world.
The Finance Director, leads the centralised Finance & Administration function, and, is responsible for supporting the needs of all Group companies with regard to finance, control, administration, information and communication, human resources and information technology. The Finance & Administration function also supports the Board and the President & CEO in various matters.
Operational Management
Tom Schroeder
Technical
Director
1993
USA
Roger Andersson
Chief Engineer
Systems
2015
Sweden
Patrik Popelar
R&D
Director
1995
Canada
Marjurie Vitor
General Manager
Latin America
2018
Brazil
Elin Nilsson
Procurement
Manager
2014
Sweden
David Gilson
Sales
Director
2013
USA
Arnaud Denis
Chief Engineer
Tracking
2010
France
Tobias Björklind
Chief Engineer
CGI
2012
Sweden
The operational management is overseen by eight specialist first-reporting-level managers. With an average service of 14 years, an average age of 50, and hailing from five different countries, the first-reporting-level managers bring a combination of experience, diversity, local knowledge and energy to SinterCast, providing a seamless transition for the future management of the company. Together, the first-reportinglevel managers are responsible for day-to-day technical, commercial and administrative activities, customer support, new product development, procurement and R&D.
Download PDF