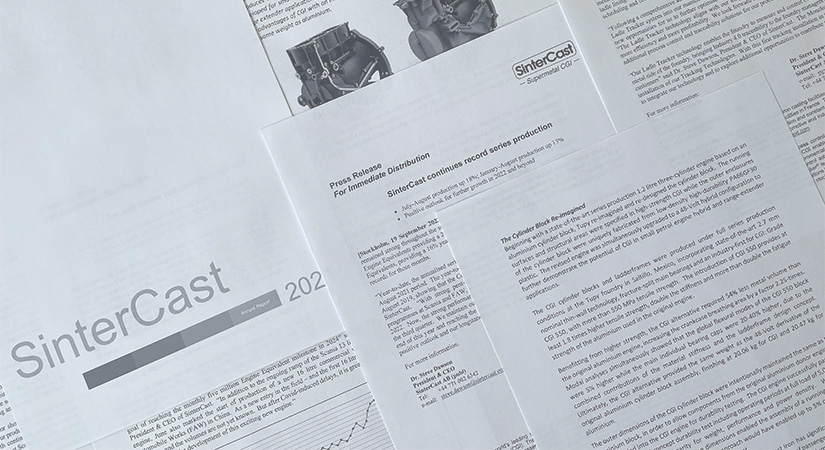 Reporting and Transparency
We endeavour to communicate openly, transparently and sincerely, both internally and externally. As a publicly traded company, quoted on the Small Cap segment of the Nasdaq Stockholm stock exchange, SinterCast complies with all laws, rules, regulations and best practices for the preparation and distribution of financial reports and press releases. Our core business is based on measurement and correction. This philosophy also applies to our information and communication, where we regularly benchmark our peer group to evaluate and improve our own performance.
Our transparency extends to whistleblower routines, where we have routines in place to allow employees to provide anonymous feedback and suggestions to executive management. We also have routines to allow suppliers to directly contact the CEO and / or the Chairman if they feel that they have been unfairly treated by any SinterCast representative.
Stakeholder Communication
SinterCast endeavours to establish open, truthful, relevant and timely dialogue with all of its stakeholders. We have established the following avenues to interact with and communicat with our stakeholders:
| Engagement Method | Foundry Customers | End-User Customers | Investors | Media | Suppliers | Employees | Trade Associations | Regulatory Authorities |
| --- | --- | --- | --- | --- | --- | --- | --- | --- |
| Visits & Remote Meetings | | | | | | | | |
| Press Releases | | | | | | | | |
| Interim Reports | | | | | | | | |
| Annual Reports | | | | | | | | |
| Annual General Meeting | | | | | | | | |
| Ask the President Forum | | | | | | | | |
| Website | | | | | | | | |
| LinkedIn | | | | | | | | |
| Presentations | | | | | | | | |
| Monthly Technical Reports | | | | | | | | |
| Monthly Efficiency Reports | | | | | | | | |
| Internal Intranet Hub | | | | | | | | |
| President's Messages | | | | | | | | |
| KPI's and Reviews | | | | | | | | |
| Membership | | | | | | | | |
| Committee Participation | | | | | | | | |
| Audits | | | | | | | | |
| Agreements | | | | | | | | |
| Compliance | | | | | | | | |