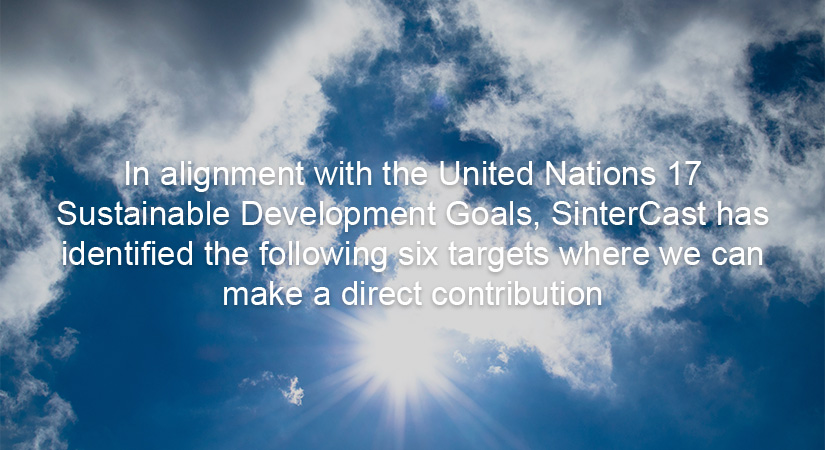 United Nations Agenda 2030
GOAL 5: GENDER EQUALITY
Target: 5.5
We value and welcome the contribution of every employee. At SinterCast, 25% of our colleagues are female. This penetration is maintained within our first-reporting-level management, where two of our nine managers (22%) are female. In contrast, in our largest end-user market of the United States, the American Foundry Society (AFS) estimates that 12% of white-collar employees in the US foundry industry are female. In our home market of Sweden, the Swedish Foundry Association estimates that 8.3% of white-collar foundry workers are female. We give equal opportunity to everyone, in the recruitment process and in the career path. We don't hire men or women, we hire talent.
GOAL 7: AFFORDABLE AND CLEAN ENERGY
Target: 7.A
SinterCast CGI enables improved transportation solutions, reducing CO2 during manufacturing and on the road. The engines that use our technology are 20–30% more fuel efficient than the nearest available engine options, reducing emissions and improving affordability. All of our engines are biofuel compatible. More than 20 years ago, the introduction of more stringent emissions legislation increased the need for better engines and therefore, stronger materials. This gave us the opportunity to prove our technology. Today, as fuel prices increase, the improved efficiency of our technology improves the affordability of road, rail and marine transport, reducing the CO2 footprint and the cost of the goods we consume.
GOAL 8: DECENT WORK AND ECONOMIC GROWTH
Target: 8.8
SinterCast provides a safe and secure workplace, with challenging, motivating and rewarding work. In our Technical Centre, hosting approximately 80% of our employees, we strive to provide a work environment that enables creativity and instills pride in the SinterCast brand. We only use 100% renewable energy. In our customer foundry environment, we ensure that every SinterCast employee has state-of-the-art protective equipment and safety training. We also support our families, providing summer and part-time work opportunities to the children of our colleagues. It is important for the management that every employee feels proud to wear the SinterCast shirt.
GOAL 9: INDUSTRY, INNOVATION AND INFRASTRUCTURE
Target: 9.5
Compacted Graphite Iron (CGI) was first observed in 1948. But it wasn't until 1999 – with the benefit of our innovation – that the first CGI series production engine was launched. Our innovation saves energy and reduces CO2 in the manufacturing phase in the foundry and in the use phase on the roads. And our technology delivers these benefits today, without the need to develop or wait for new infrastructure. We invest approximately 15% of our revenue annually in R&D, including collaborative development projects with our partners in business and academia to continuously improve transport efficiency, to foster the next generation of research engineers and academics, and to carve our future business opportunities.
GOAL 12: RESPONSIBLE CONSUMPTION AND PRODUCTION
Target: 12.5
The SinterCast technology improves process efficiency during the manufacturing phase, reducing foundry scrap rates. The reduced scrap rate means that fewer castings need to be re-melted and re-cast, saving energy and reducing CO2 emissions. More than 90% of the metallic charge materials used to produce CGI are recycled and there is no use of exotic or conflict materials in our castings. SinterCast imposes contractual requirements upon its customers to transport and dispose of any waste arising from the SinterCast technology in compliance with all applicable laws, regulations and ordinances, in a safe and environmentally sound manner, so as to prevent any waste from entering the environment as a pollutant.
GOAL 16: PEACE, JUSTICE AND STRONG INSTITUTIONS
Target: 16.5
In accordance with the SinterCast Code of Conduct, SinterCast will compete fairly for business based on the quality and the price of its products and services. We will not offer improper benefits to others. No employee may directly or indirectly offer, promise, grant or authorise the giving of money or anything else of value to a government official, business partner or customer to influence a decision.